This year there has been a lot of climbing development in one of the prettiest corners of Greece, Kyparissi, a village located on the southeast coast of the Peloponnese peninsula (a little over an hour away from the popular Leonidio). Kyparissi already had about 25 hard sport routes, but the area's vast climbing potential remained untapped. Until this year, that is, when a portion of a local benefactor's inheritance was used by the local municipality to fund the Climb Kyparissi bolting project.

In nearby Leonidio, climbing has already brought a significant off-season boost to small local businesses. Another factor expected to further benefit these two fantastic venues is the construction of a new coastal road connecting them, as it will improve the mobility of climbers between the two.
The Climb Kyparissi bolting project

Overview: As a climbing venue, Kyparissi has everything: loads of top-quality limestone, a beautiful village able to accommodate climbers, and stunning natural beauty combining a steep, lush mountainside with two breathtaking beaches. In other words, Kyparissi is an equipper's dream. After years spent trying to get funding, the actual bolting of approximately 120 sport routes was finally able to begin in spring 2015. The secondary goal of this project is to extend the area's short tourist season, which is now mostly limited to July and August. Kyparissi is good for climbing in spring and fall, so this goal is not unrealistic. In a small and remote place like Kyparissi, even a small increase in off-season visitors can make a real difference.

People: Coordinating the Kyparissi Bolting Project is Mountain Guide Aris Theodoropoulos, who has also equipped many of the routes, as have Yiannis Torelli, Claude and Christine Remy, Claude Idoux, Bernie Ruech and Angy Eiter. Project funding is managed by the Bodossaki Foundation in collaboration with the Municipality of Monemvasia. Deputy mayor Mr. Panayiotis Traiforos has been instrumental in helping with logistics.

The Climb Kyparissi bolting project is still underway, and new routes will continue to go up in the coming months. Stay tuned for updates as they become available.
The Kyparissi Climbing Festival (October 2-4, 2015)

To introduce gorgeous Kyparissi as a climbing venue, a small festival is planned for the first weekend of October (2,3 and 4 October 2015). The event will be organized by the local municipality with support by The North Face Greece, Vertical Life, and Zlagboard. Special guest at the festival will be Angy Eiter, the four-time world champion with three 9a ascents under her belt. Angy and her partner Bernie Ruech are very familiar with Kyparissi and Leonidio, as they have already invested a lot of time in developing new routes at both venues. The festival will include a climbing marathon on Saturday, Oct 3rd; live music and and award ceremony on Saturday evening, and free climbing on Sunday. When more details about the event become available we will update here.

From Athens: Kyparissi is 300km southwest of Athens and approx. 90km from Sparta. From the Athens International Airport, take the Attiki Odos motorway in the direction towards Elefsina. Continue towards Korinthos. On the outskirts of Korinthos, turn off onto the motorway towards Tripoli. From Tripoli, continue towards Sparti. At the entrance to Sparti, turn left towards Geraki and then follow the route Agios Dimitrios–Kremasti–Lambokampos–Harakas–Kyparissi.

From Leonidio: There are two routes from Leonidio to Kyparissi. The longer route (97km) is via a paved road, while and the shorter route (64km) is via a relatively smooth dirt road which does not necessarily require a 4×4 vehicle. The paved route goes from Leonidio via Kosmas–Geraki–Agios Dimitrios–Kremasti–Lampokampos–Harakas–Kyparissi. The dirt road goes via Poulithra–Peleta–Harakas–Kyparissi. As mentioned above, a coastal road connecting Leonidio to Kyparissi (30-35km) is currently under construction. It is estimated to be completed in early 2016, and it will be part of the new Argos-Leonidio-Fokianos-Kyparissi coastal road.
Accommodation and other amenities

There are accommodation options for all budgets in Kyparissi; some links for Kyparissi accommodation can be found on the left sidebar of our main Kyparissi page. There are also at least two general stores and several very good tavernas/restaurants.

Good to know: Kyparissi does not have a bank, an ATM or a gas station. Make sure to come prepared. If you are driving from Athens, fill up your gas tank again in Sparta or in the village of Agios Dimitrios. If you are coming from Leonidio, you can get cash and gas there.
New crags in Kyparissi

Introduced below are two brand-new crags, Kastraki and Jerome's House, which feature easier climbing. Many hard routes have also been added to existing sector Babala; we will write about them when more info about grades is available. (Babala is an endless zone of cliffs high above Kyparissi, about 1 hour away on foot. There were only five routes equipped by two French climbers, who used a donkey to haul their gear up from the village. As part of the current project, Yiannis Torelli recently added 15 very hard routes on incredible tufas. Furthermore, Bernie Ruech and Angy Eiter bolted some very hard lines; Angy did the first ascent of a fantastic 8c a couple of weeks ago.)

The easiest crag in Kyparissi, with routes starting at 5a. Kastraki is in the middle section of the village, above the church and not far from the beach, in lush surroundings with beautiful views. Kastraki has all the makings of a popular crag: very good quality limestone, low to mid-grades (5a–6c), a "central" location and a very easy approach.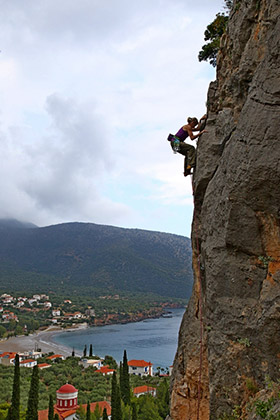 Equippers: The routes at Kastraki were equipped by Aris Theodoropoulos and Claude Idoux (who came all the way from Kalymnos to help). Yiannis Metaxotos from Leonidio also did a very thorough job of cleaning and gardening, on and off the rock.

What's in a name? Kastraki means "little castle", for there are ruins of a castle at the top of the hill (not unusual for Greece). The majority of route names are local nicknames paying tribute to old seamen or other past residents of this part of the village.

Climbing: On the left (Kastraki) a quality grey wall, somewhat sharp, but with great variety in features and moves. On the right (Kastraki Upper), an overhanging red wall with tufas, big holds, and athletic gym-style routes. All routes are very well-protected, so go for the onsight!


Gear: 70m rope; 15 quickdraws (QD) for routes up to 30m, 20 QD for routes longer than 30m.

Conditions: Best for spring and fall climbing, but summer climbing is also possible in the mornings.

Shade: In the morning and early afternoon. The sun comes at 13:30 (lower) or 14:00 (upper).

Exposure: SW

Approach: Go to the middle part of the village (called Paralia), on the SE side of Kyparissi. You will see the church and cemetery on the right as you drive down to the beach. Park either near the church or across the road (in a plot with olive trees used as a parking area; there is a sign). Cross the little bridge leading to the cemetery entrance and walk around the cemetery wall to the right. You will see the clear path going up to the cliff; there are also red marks. Walking time: 5 min.
Kastraki | Routes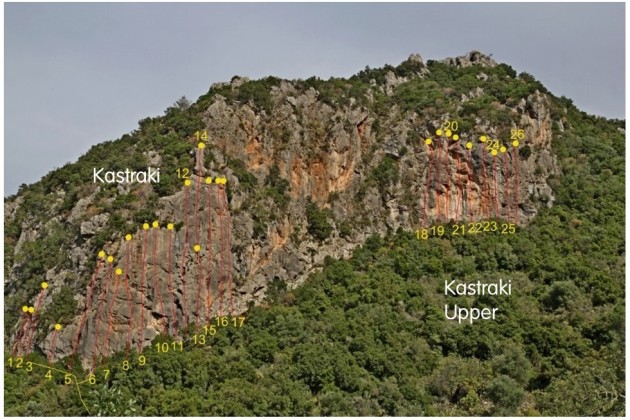 1. Pipis 2* 5a 10m A good training route for beginners.
2. Koles 2* 5b 10m Another good warm-up route.
3. Tsitos 1* 5c+ 15m Inconsistent: a hard start, then much easier.
4. Koufos 3* 5c 10m A short but steep wall with good holds.
5. Sirmas 3* 6a+ 25m A very technical corner to start; the upper part is easier.
6. Kotsipetros ♪ 6b 25m An amazing smooth slab with good holds when you need them.
7. Batarolos 3* 5c+ 22m A pleasant wall with a couple of moves on steeper terrain requiring problem-solving.
8. Rozos 3* 6a+ 25m A grey wall with a short technical crack and an exceptional steep finale.
9. Mantrakoukos 3* 6b+ 25m A steep wall with good variety and a comp-like finish on brown rock.
10. Kolios 3* 6b 25m A stiff intro, but hidden holds are a pleasant surprise. The enjoyment comes at the end!
11. Zafiris 3* 6b 25m A nice start with big holds leads to a technical upper wall.
12. Kakaras 2* 6a 30m Long and satisfying with a pleasing slab on the second half.
13. Kastraki 3* 5b+ 20m Good holds just keep coming.
14. Kastraki Ext ♪ 6a 35m A high-quality grey wall and amazing steep finish up the pillar!
15. Mougaras 3* 6a+ 30m Another beautiful pillar which is good for photos.
16. Kepas 3* 6b+ 28m Starts with a very technical bulge and challenging footwork; easier but continuously interesting after that.
17. Bouras 3* 6a 28m A wall full of good hidden holds!

Kastraki Upper | Routes

18. Pontikos 2* 6b 18m Hard start, easier upper part.
19. Monimos 3* 6c+ 18m Three cruxes and a hard final clip.
20. Frydias ♪ 6c+ 18m Stellar moves from hole to hole!
21. Tzambas 3* 7a 18m Great climbing on tufa terrain with three intriguing bulges.
22. Gandemis 3* 6c 18m Easier tufa climbing plus an interesting overhanging corner with plenty of rest opportunities.
23. Jumping Fish ♪ 7a 18m An exceptional steep climb and beautiful moves.
24. Krinos 2* 6c+ 18m A white technical line with big—but sharp—holds at the end.
25. Tantra 3* 6b 18m A slab, then an excellent bulge with good holds and long moves, then a slab again.
26. Panotsis 2* 5c+ 18m A hard but interesting bulge leads to steady climbing with no further surprises.

Sector Jerome's House is a few kilometers outside the village of Kyparissi. It is closer to the village of Harakas, at the point where the road starts to descend the mountain towards Kyparissi. The crag is just below the road, and not visible from the road. It is a very compact, primarily grey wall. At the base of the cliff is a small cave and a wide, flat strip of land.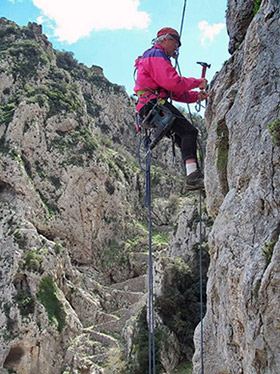 Equippers: The crag was equipped primarily by Claude and Christine Remy (routes 5-15) with the contribution of Aris Theodoropoulos and Yiannis Metaxotos (1-4 and 16,17).

What's in a name? The crag's name was inspired by the house of John "Blackjack" Jerome, a lone structure visible at the far end of the gorge down by the sea. Jerome was a mobster and strikebreaker who lived in California in the early 20th century, but hailed from Kyparissi. He had big plans for that house (including installing a cable car/teleferic to connect the house to the col!) but, alas, didn't live long enough to see his plans come to fruition.

Climbing: Quality grey wall with good hidden holds and well-protected routes. Unusual, prominent features in the middle section of the crag. The rock in the lower part of the routes looks awkward, but the climbing is impressive. Jerome's House is ideal for climbers looking for grades from 6a to 7a+.

Gear: 70m rope minimum; 15 quickdraws (QD) for routes up to 30m, 20 QD for routes longer than 30m.

Conditions: Sector Jerome's House is near the col, so it is breezy and cool. Best seasons are fall, spring and summer afternoons.

Shade: All afternoon starting at 12 o'clock noon.

Exposure: NE

Approach: From Kyparissi, drive to Harakas village. Park at Stavros, at an obvious parking area on the left near the small chapel, shortly before the entrance to the village (36.915641, 23.003433). Then walk back towards Kyparissi for 150m and down the steep path to the right (36.917377, 23.003299) following red marks and cairns. Walking time: 15 min.
Jerome's House | Routes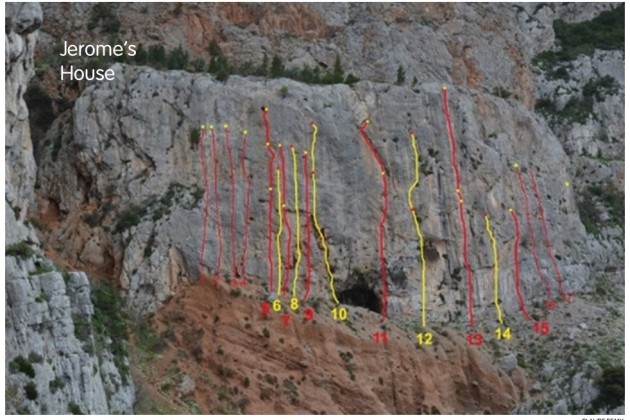 1. Pinkerton 2* 6b+ 30m A tough start is followed by easier climbing.
2. Bay Area 2* 6b+ 30m Similar to "Pinkerton".
3. Kalderimi 3* 6c 30m Wall climbing with good holds.
4. Black Jack 3* 6c 30m More wall climbing with holes and very enjoyable moves.
5. Epitirisi kai Timoria 3* 6b+ 20m A wall and small bulge. (The name is inspired by the famous Verdon route by the same name in French, Surveiller et Punir, from the book by Michel Foucault.)
5.1 Epitirisi kai Timoria Ext 3* 7a 30m Wall climbing.
5.2 Epitirisi kai Timoria Ext 2 3* 7b 38m More wall climbing on small holds. 20 QD.
6. Out of System 3* 6c 25m A wall and small bulge with small holds.
7. Piliza 3* 6a 20m A wall, corner and small roof.
7.1 Piliza Ext 3* 7a+ 30m A wall with small holds.
8. Hospeatality 3* 6b+30m A wall with good holds when you need them!
9. Choco Heaven 3* 6b+ 30m More wall climbing with good holds.
10. Bangsters 3* 6c 30m More wall climbing with good holds.
10.1 Bangsters Ext ♪ 7a+ 38m More climbing up the wall but the holds get smaller. 20 QD.
11. The Crazy World 6c 30m A big overhang, crack and wall.
11.1 The Crazy World Ext 2* 7a+ 35m A crack. 20 QD.
12. Of Arthur Brown ♪ 6b 20m Overhanging with big holds.
12.1 Of Arthur Brown Ext 3* 6b+ 30m Wall and crack climbing.
13. Catalavenis? 2* 7b? 25m Wall, overhang and monos.
13.1 Catalavenis? Ext 1 ? 30m Up the smooth wall.
13.2 Catalavenis? Ext 2 3* 6c 38m And the wall continues with good holds. 20 QD.
14. Kidoni 2* 6a+ 20m A wall and crack.
15. Low Cost 2* 6a+ 20m A wall, crack and smooth slab.
16. Strikebreaker 2* 5c 25m A good warm-up for this sector.
17. Teleferic 2* 5c 25μ An interesting corner climb.

______