Francisco Taranto Jr. and Sandra Ducasse first discovered Greece when they visited Meteora, Kalymnos and Leonidio with Caroline Ciavaldini and James Pearson last year. Francisco is a climbing photographer and filmmaker. The day before the birth of their son, in 2010, Francisco and his wife Sandra bought an old Mercedes van. After many trips with pro climbers, Francisco, Sandra and the children dreamt of traveling in the mountains, of making discoveries, meeting people and documenting all these things. They call this their DRIM! project ("Decouvertes, Rencontres, Images, Montagnes").
And so it is that their DRIM! adventure began in Greece last autumn. They had left the country last time with the best impressions: "Greece, a wonderful country, nowhere flat: a heaven for mountain lovers. Warm people, exquisite local specialties, and a great climate during the fall. We had to get back to Greece!" Sandra and Francisco wrote. And they did, this time with Anna and Tomas, their two adorable children, their dog Fellipe, and their trusty camper van. They started off in Athens but spent most of their trip touring the Peloponnese. Wonderful storytellers both, they made discoveries, met people, and tell their Greek story with vivid pictures and a series of five candid episodes filmed along the way.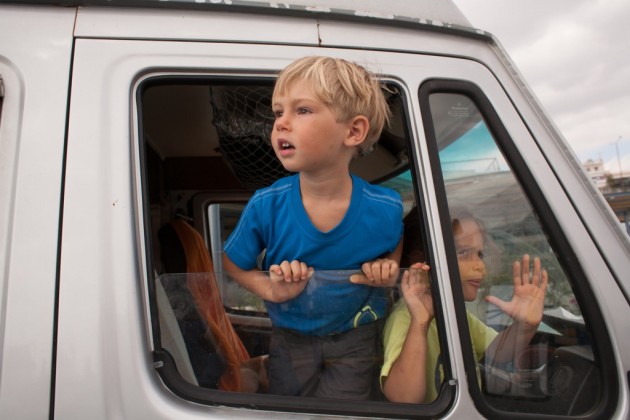 "For a couple of days we left the Peloponnese behind us and headed to Kalymnos, a Greek island off the Turkish coast. On our way back, we stopped near Athens, at Fili. We camped on the upper part of the city, next to the cliff. Early in the morning, we took time to enjoy a great site for novice climbers (i.e. sector Acharneis): No approach on foot, easy routes and even a bench at the bottom. From here we went to the heart of the Peloponnese, in Arcadia. Then, one evening sitting around the campfire at the Loussios gorge: 'Anna, can you imagine that the other children are already in bed because tomorrow they will have to go to school?'. She smiles back at me, and I continue: 'And we, we are eating chestnuts next to a campfire and a river, in Greece.' She smiles again… But the rain interrupts us. We rush to gather our things and get back to the van to avoid getting soaked, and especially to finish off the chestnuts."
Read Sandra and Francisco's full account of their Peloponnese road trip here.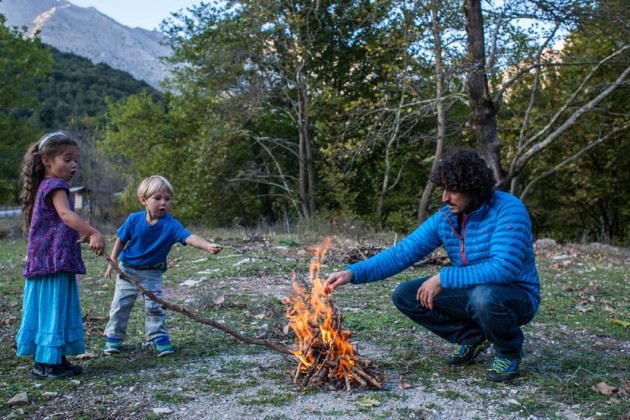 Thank you for the terrific travel diary, Sandra and Francisco! You've got us dreaming now, too…




Production of this travel diary : Sandra Ducasse.
Photos : Sandra Ducasse and Francisco Taranto Jr.
Videos (production and editing): Francisco Taranto Jr.