We are just back from beautiful Kyparissi, where we spent a good part of September continuing to work on the Climb Kyparissi project. This project, which started in 2015, is co-funded by the Municipality of Monemvasia and funds by two local benefactors administered by the Bodossaki Foundation. The Kyparissi project started in spring 2015; to date there are nine sectors across the wider area featuring nearly 200 routes. This year, three new sectors were created: Playground, with 12 easy routes on ultra-compact grey rock in a setting perfect for families and new climbers; Kapsala, featuring 25 routes, including a 5-pitch 6b route and some great harder climbs on red rock with prominent features, big holds and stalactites just above the sea; and this year's pièce de résistance, sector Vlychada: a dream beachside crag 45 minutes south of Kyparissi, featuring 15 routes from 5c to 7b on excellent grey and featured red limestone with pockets and tufas.
Once again, a big Thank You to everybody who worked hard in making the Kyparissi project happen:
The Municipality of Monemvasia and its very active deputy mayor, Mr Panayiotis Traiforos; the Bodossaki Foundation; climbers Claude and Christine Remy, Yiannis Torelli, Claude Idoux, Dimitris Titopoulos, George Kopalides, Angy Eiter and Bernie Ruech; and the local residents and business owners of Kyparissi who continue to support the project and the equippers involved.
Free mini-topo of Kyparissi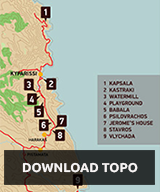 For the next month or two, we are making the updated topo of Kyparissi available to download for free. It includes all routes equipped in Kyparissi through October 2016. Names are written on the cliff at the start of most routes, so they are easy to find. When routes are brand-new, as they are in Kyparissi, grades have yet to be confirmed and the use of helmets is strongly recommended.
The free Kyparissi topo will be available online for a limited time, i.e. until the new edition of the Greece guidebook is published later this year. So download your copy now and go experience Kyparissi for yourself! As always, we appreciate your taking the time to send us your grade suggestions and other feedback.
Kyparissi Topo 2016