Kyparissi: Festival news, videos, and a free downloadable photo-topo
"It was totally awesome, like a dream come true, having the opportunity to find a crag where there are still so many untouched lines that you barely know where to start." These are not the words of just any climber, but of Angy Eiter in a recent video released by Red Bull about Kyparissi. Angy has fallen in love with the obscure little village, and keeps coming back and spreading the word about the climbing in Kyparissi every chance she gets. (Note: In the subtitles of the Red Bull video, Kyparissi is incorrectly translated as Kyparissia. Kyparissia is a different town on the west coast of Peloponnese, not to be confused with Kyparissi, which is on the southeast coast, not far from Leonidio.)
Slowly but surely, Kyparissi has begun to emerge from obscurity. It is becoming a proper sport climbing venue with six crags to-date, more than 100 well-bolted lines, and vast potential for many, many more new routes. The sensible development of climbing in Kyparissi is another point in its favor: Bolting has followed a set of reasonable guidelines from the start (proper hardware, well-protected routes, thorough cleaning and marking of the crags and paths) and there is something for climbers of all grade levels. Kastraki, a sector above the village church with very easy access, great views of the village and beach, and routes between 5c-7a on mostly grey compact limestone, but some red slightly overhanging routes on tufas as well, is expected to appeal to the majority of climbers and families. Watermill, a stunning bright red overhanging wall just off the road outside the village catches the eye immediately, and features fantastic routes starting from 6b/6c up to 8a/8b. Sectors Jerome's House, Stavros and Psilovrachos are located high above the village, with routes in the mid-to-hard grades perfect for climbing on very hot days. And when it comes to very hard climbing, Kyparissi hits the jackpot: Babala.
Babala is a long expanse of creamy yellow limestone streaked with grey/blue tufa snakes, pipes and wings that run the full height of the cliff like vertical rivers. It unfolds along the ridge high above the village (approximately 45 minutes via a beautiful old trail) but every moment of the walk is worth it. Babala is a world-class hard sector featuring pure tufa climbing at its best. The well-traveled Greek climber Aristos Thanopoulos describes it as "the best hard sport crag in Greece". And Angy simply says: "The climbing here is so good."
Downloadable photo-topo of Kyparissi

To thank all climbers who supported this new venue by coming to the 1st Kyparissi Climbing Festival (see below), we have put together a mini photo-topo of Kyparissi. The Kyparissi topo is free to download, and it includes all routes equipped in Kyparissi until November 2015. New routes will continue to go up over the next months and we will post updates here as the latest info becomes available.
The photo-topo of Kyparissi was compiled by Aris Theodoropoulos/Climb Greece. If you have any questions, comments or corrections to suggest after downloading it, we are just an email away.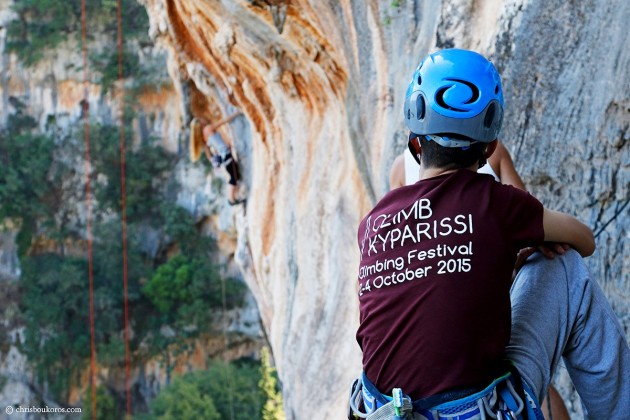 Chris Boukoros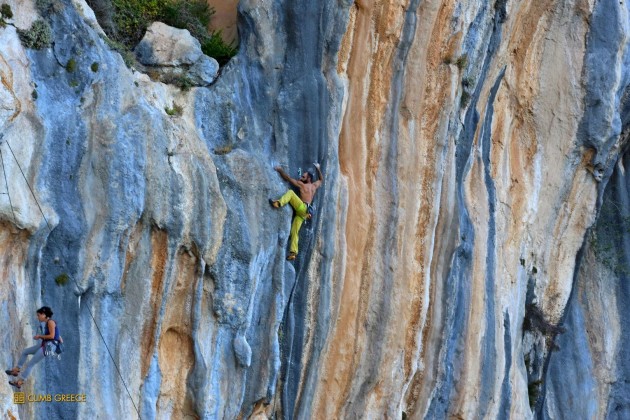 Aris Theodoropoulos/Climb Greece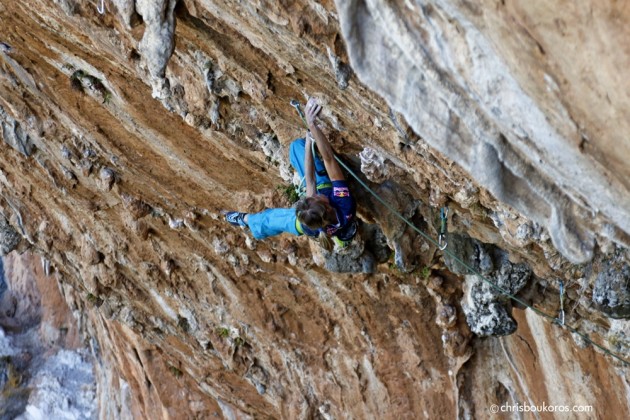 Chris Boukoros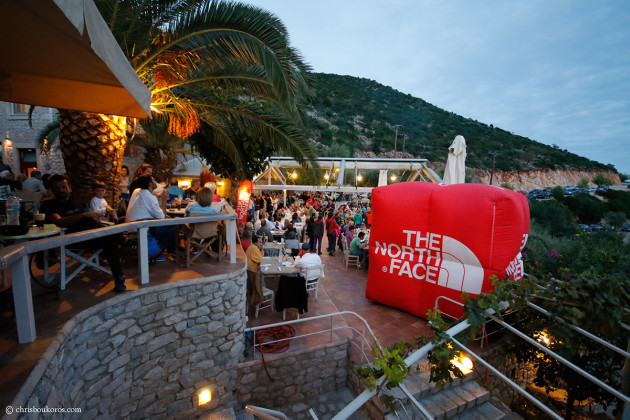 Chris Boukoros
Aris Theodoropoulos/Climb Greece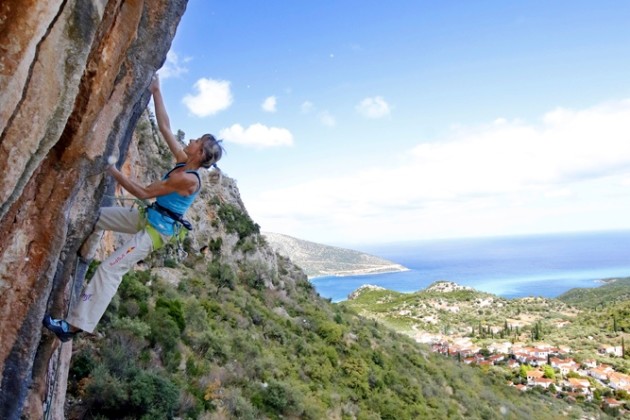 Chris Boukoros
Chris Boukoros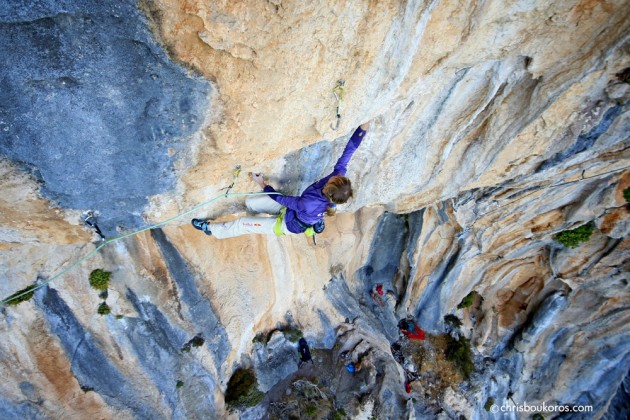 Chris Boukoros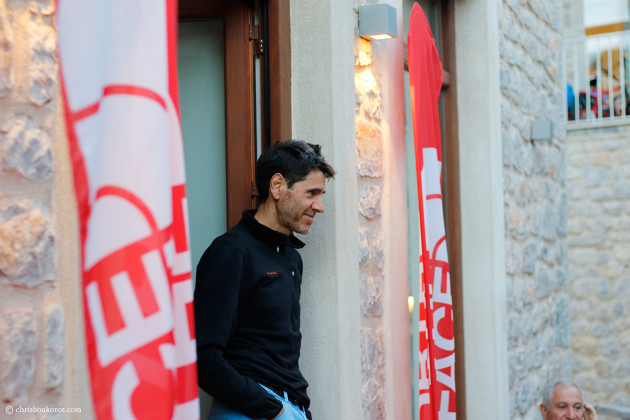 Chris Boukoros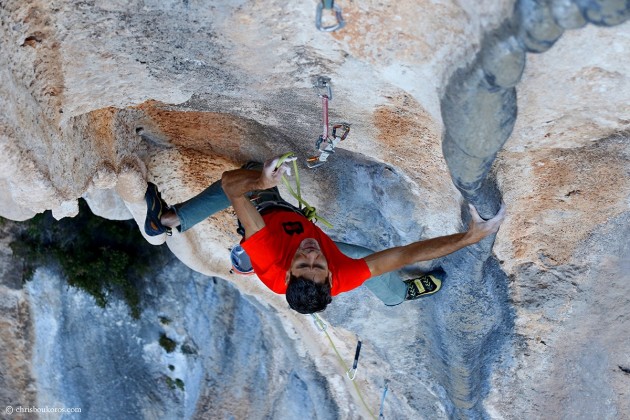 Chris Boukoros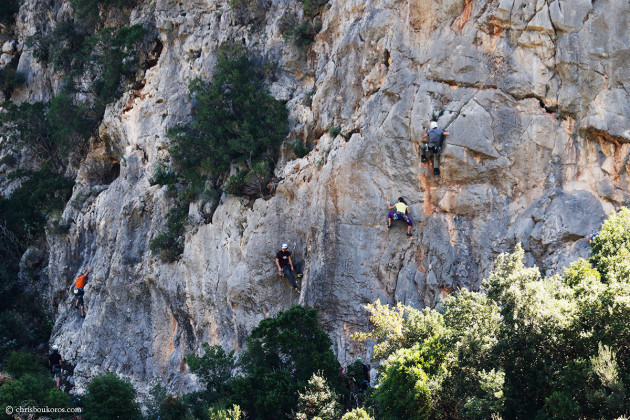 Chris Boukoros
Chris Boukoros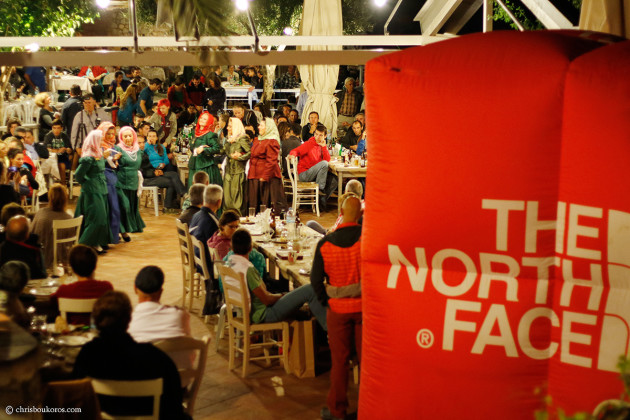 Chris Boukoros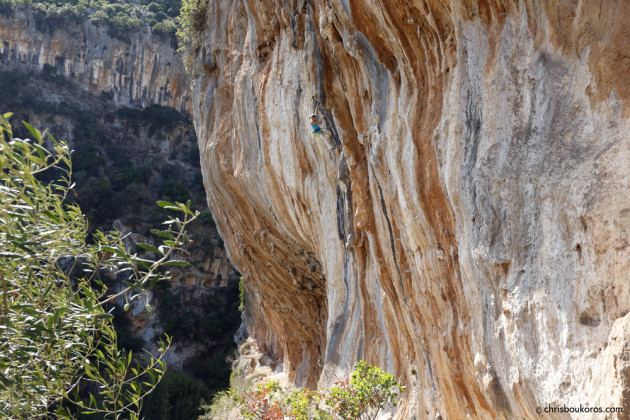 Chris Boukoros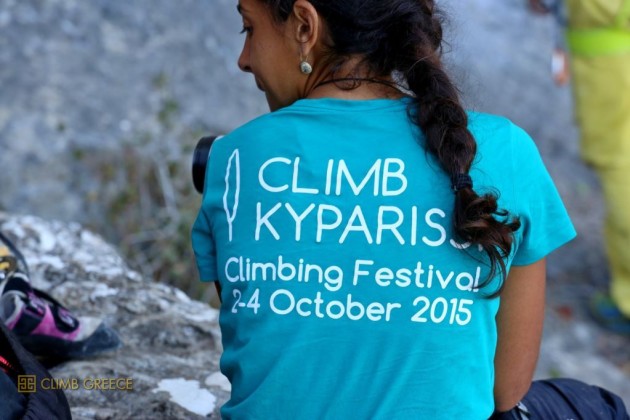 Chris Boukoros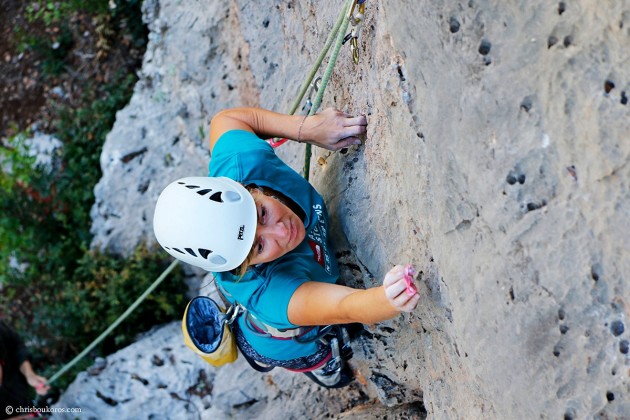 Chris Boukoros

Introducing Kyparissi to climbers: The 1st Kyparissi Climbing Festival
To acquaint climbers with all the new routes and the natural beauty of Kyparissi, a small festival was put together in the beginning of October. Without much advertising or a big budget, the turnout for the festival exceeded all expectations and it was, by all accounts, quite a success. The rainy weather forecast leading up to the festival was somewhat stressful, but starting on Friday, the first day of the festival, three bright and glorious days followed. Approximately 100 climbers signed up for the event, and an estimated 400 people attended the festival's free dinner buffet at Hotel Cavo Cortia (a major highlight!) Besides the climbers, many residents of Kyparissi and members of mountain clubs from around the Peloponnese and the island of Cyprus also attended.

Angy Eiter was the festival's special guest, as she has naturally become the ambassador of Kyparissi abroad. Angy's climbing partner during the festival was Aristos Thanopoulos, one of the most accomplished Greek climbers. Angy onsighted Zarax 8a and Medusa's Blood 8b at sector Watermill, as well as the jaw-dropping, tufa-pipe laden Leodokardos 8a at sector Babala. Additionally, she did the first ascents of all routes she and her partner, Bernie Ruech, equipped together at Babala earlier this year: Gloom of Triumph 8c, Mythos 8b/8b+, and Carpe Diem 8b+.

A mini climbing marathon was also part of the festival. Climbing pairs competed in two categories (up to 7a, 7a + above). The winning pairs in the easier category were Vangelis Batsios/Christos Tzioufetas, Spiros Anatolianos/Isidora Ruschioni, and Antonis Tsourekas/Paschalis Angelopoulos; in the harder category, Antonis Anyfantakis/Katerina Touriki. Winners took home prizes by The North Face and local businesses as well as copies of the Greece and Kalymnos guidebooks.

We can't help but mention the dinner buffet again: On festival Saturday, nearly 400 guests enjoyed a royal feast of local specialties—everything from homemade pies, an array of vegetables and a whole suckling pig (!) to perfect desserts and a variety of beverages. The owners of the hotel are due most of the credit for putting together an exceptional, memorable evening that went far beyond the humble budget of the festival, though it should come as little surprise, because we have experienced some of the warmest hospitality from the people in Kyparissi.

Last but not least, the lovely Angy Eiter was awarded an honorary plaque by the mayor of Monemvasia for sharing Kyparissi with the climbing world, and the Greek climber/equipper Yiannis Torelli, a modest, low-key personality who has consistently propelled Greek climbing forward, was awarded by the president of the Greek Climbing Federation for his overall contribution to Greek climbing. Speeches by local authority figures ensued, then Aris Theodoropoulos briefly introduced the Kyparissi project and Angy Eiter presented her climbing career and her involvement in the Kyparissi project. (The poor quality of the audiovisual presentations was the only hiccup of the event; something to be fixed next time.) The evening ended with dancing well into the evening by the local group "Kyfanta".












Acknowledgments
We sought funding for the Kyparissi project for close to a decade until it finally came to fruition this year. Overseeing the project was Aris Theodoropoulos; with him, Yiannis Torelli, Claude and Christine Remy, Angy Eiter, Bernie Ruech, and Claude Idoux all bolted routes. Yiannis Metaxotos worked very hard at cleaning the rocks, terrain and paths. Katie Roussou also helped out as needed. Mr. Panayotis Traiforos, a resident and deputy mayor of the Kyparissi area, deserves a lot of credit for always putting his best efforts forward to help his community and for believing in the Kyparissi project from the start. The Bodossaki Foundation and its representative, Mr. Ioannis Hadjinicolaidis, also offered invaluable help and support. Our gratitude to the benefactors of Kyparissi, Messrs G. Gavrilis and G. Giouzelis, for continuing to help their beautiful village even after they are gone. Our friend and photographer Chris Boukoros did a great job, as always, of capturing the energy of Kyparissi with his images and film. Another good friend, Dimitris Papadimitriou, and his company 4|Work printed the t-shirts for the event in record time and graciously made extras for everyone. We are grateful also to The North Face and its brand manager Mr. Manolis Mavroidis for taking a chance to support a new, unknown venue and sponsoring the official festival t-shirts.


Organizers
Municipality of Monemvasia
Municipal Unit of Zarakas
Bodossaki Foundation
G. Kellis Trust
Climbgreece.com


Official Sponsor
The North Face


Media Partners
Vrahomania.gr
Vertical Life
Korfes Magazine


Supported by
4|Work
RocKit Cream