* OLD EDITION OUT OF STOCK *

A revised & expanded edition of the Greece
Guidebook is coming in late April / Early
May 2017

Preview the book cover.

A limited number of copies of the 2014 edition
may still be available at the following locations:

Leonidio: Hotel Hatzipanayiotis
Meteora: Camping Kastraki
Athens: Rockway Climbing Gym
Kalymnos: Wild Sport climbing shop
Kalymnos Adventure Center

Also available online at bergsteigen.com


Greece Sport Climbing: The Best Of
By: Aris Theodoropoulos
Language: English
Paperback: 320 pages
Publisher: Terrain
Release date: September 29, 2014
ISBN: 978-960-9456-20-3
BUY THE GUIDEBOOK
PRICE: €35.00 + €4.50 flat worldwide shipping.
Free shipping to Greece.
We use PayPal for fast, safe payment.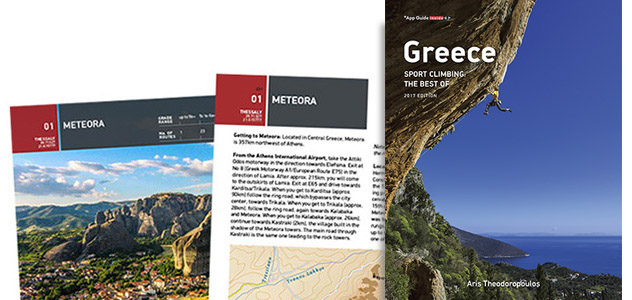 GUIDEBOOK SAMPLES (Note: Greece Sport Climbing does not include the crags of Kalymnos)
SAMPLE: Greece Sport Climbing | METEORA
SAMPLE: Greece Sport Climbing | NAFPLIO
DELIVERY: We ship worldwide using international priority airmail by the Greek Post Office. Unfortunately, with international airmail there is no tracking number. However, in our experience, it is very reliable. All guidebooks are posted within three (3) working days of cleared payment. Average delivery times are 7-10 working days to EU countries and 15-20 working days to non-EU countries. Guidebooks are safely packaged in a 100% recyclable book mailer derived from recycled post-consumer waste.
SHIPPING COSTS: We charge a flat international rate which is much lower than the actual postage fees (ranging from €9-€12.50). We do our best to keep the cost of shipping down, but this may change at any time depending on sudden postage increases.
SHIPPING ADDRESS: We ship to the address you provide on PayPal. Please double-check your address to ensure it is correct. If you would like the guidebook shipped to a different address, please notify us under PayPal's special field "Instructions to Seller". If you provide us with the wrong address and your guidebook gets lost, we're afraid we will not be able to replace it for free.
GUIDEBOOK FEATURES
• A clear, user-friendly page layout similar to that of the Kalymnos guidebook
• A concise Crag Planner
• Hundreds of photo-topos and stunning images
• Detailed, custom-made maps with approach paths
• GPS coordinates for all crags
• Additional helpful crag info (e.g. conditions, rock type, sun/shade, orientation, child-friendliness etc.)
• Tips on travel, accommodation, amenities, local interests and other activities
• Suggested itineraries for a one- or two-week rock trip around Greece
• Nearly 1700 selected routes in 29 sectors throughout Greece, including:
– The "sacred" conglomerate towers of Meteora
– Almyros, Pyli Little Gorge and Mouzaki, for "Kalymnos-style" climbing
– Hardcore sport crags Chatzouri, Alepochori and Kleisoura, in the Patras Area
– The solid, 917-meter limestone massif of Varasova
– Outstanding crags in the Peloponnese (Leonidio, Nafplio, Zobolo, Lagada and Nedousa)
– The Aegean islands of Anafi and Symi
– Three crags on the famous island of Crete (Voulismeno Aloni, Plakias and Tersanas Cave, also known as the "new Grande Grotta")
– Crag highlights in the Athens Area—the only capital with so much quality climbing so close to the city.
Please note: Greece Sport Climbing: The Best Of does not include the crags of Kalymnos.